COVID test
safely and comfortably at your home
Do you need to test yourself or your family, do you need to attend a business meeting, are you planning to travel abroad or have you finished quarantine or treatment? We can help you in these and in many other situations. We will arrange individual or group testing for COVID-19 for you. Safely, quickly and comfortably at your home or in you company's premises.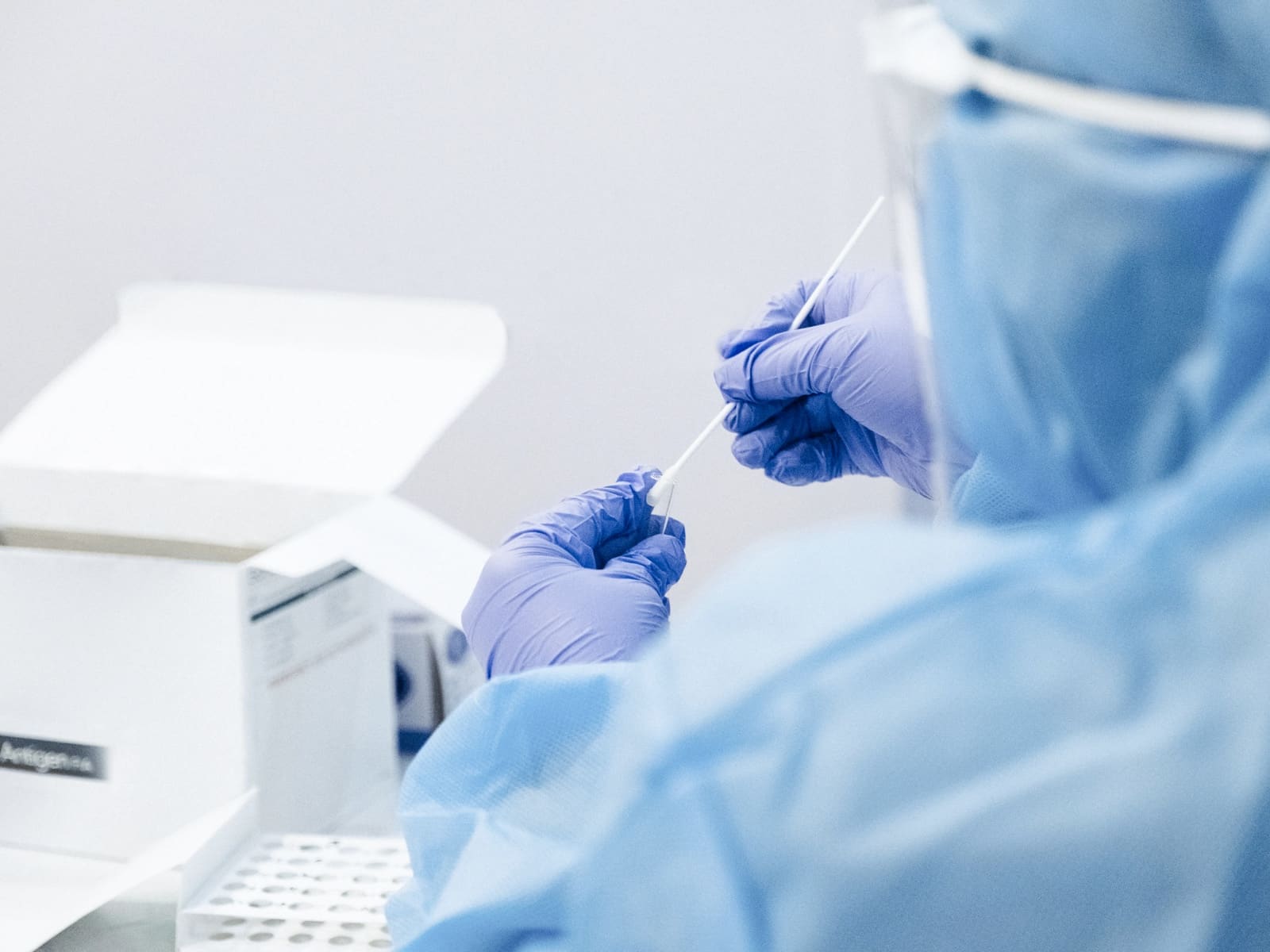 Sampling is performed via an expert medical team of mobile sampling units of Záchranná zdravotná služba SR, a.s. anywhere in Slovakia. You need to order the testing 24 hours in advance, agree on the form of testing and report the sampling date and address. The entire testing process will be conducted without waiting and stress, and we will inform you of the results as early as possible.
We will also ensure quick, safe and comfortable transport with a medical transport service to and from a medical facility.
We test the presence of SARS-CoV-2 virus using RT-PCR tests, gurgle tests, rapid antigen tests or ELISA antibody tests. We also provide expert consultation in relation to testing.
RT-PCR tests
Testing is conducted using nasal and throat swabs. The test will directly prove the presence of the virus and the amount of the viral load, on the basis of which it is possible to estimate the potential infectivity of the tested person. RT-PCR testing currently represents the most reliable diagnosing method for COVID-19 and the tests are also recommended by the Public Health Authority of the Slovak Republic and WHO.
Test results will be available to you within 48 hod.
Antigen tests
Testing is conducted using nasopharynx swabs. The tests test presence of a protein found in the virus membrane. However, it is important to note that they are most reliable with acute symptoms, which is usually 3 to 5 days after the first symptoms of the disease appear.
Antigen test results will be available to you within 30 minút.
ELISA antibody tests
Testing is conducted by taking a blood sample. The test identifying immunoglobulin IgG (late stage) and immunoglobulin IgA and IgM (early, acute stage), antibodies against the virus causing COVID-19 is highly accurate. Depending on the level of antibodies it enables assessment of whether the tested person has been infected by COVID-19 and to estimate the stage of the disease, i.e. if it is an early stage of the disease or a late stage after overcoming the disease. It helps assess the disease's prognosis and e.g. facilitates decision-making about vaccinating against COVID-19.
ELISA test results will be available to you within 48 hod.
Gurgle tests
Testing is conducted by gurgling in the mouth and subsequent laboratory analysis of the gurgled sample. We offer two testing options:
individual testing;
2. pool testing with a sample of at least 50 persons. In such case, the sample is sequenced and then the positive person/s is/are identified.
The principle of virus diagnosis as well as the results of gurgle testing are equivalent to PCR testing results.
Gurgle test results will be available to you within 24 hours.
1. Testing
You order any form of testing 24 hours before sampling.
02/2100 28 60 – Option 5
You agree on the form of testing, state the date and address to where the sampling team will come.
2. Sampling
Our medical staff will perform professional sampling according to the testing method you have selected.
3. Assessment
An antigen test result and testing confirmation will be sent to you within 30 minutes.
Testing confirmation and the results of other tests will be sent in an SMS message immediately after the end of their laboratory assessment.
For mobile testing call
Option 5